For many engaged in romantic fantasy while gazing out the office window with a thousand yard stare, the beach is clearly the obvious destination. Warm sun, cool breeze, no demanding boss accompanied by whining coworkers and almost total isolation from distractions near and far. The beach provides us with an opportunity to escape the reality of our daily lives and enjoy the fresh outdoors. Indeed, some may consider the natural ability for sand to find it's way into every crevice a bit more than frustrating, but for many, the opportunity to disconnect from the world is well worth the risks. Unfortunately, a beach day is not necessarily available for everyone, but there are worthy alternatives available to you if you are somewhat creative and willing to enjoy other adventures.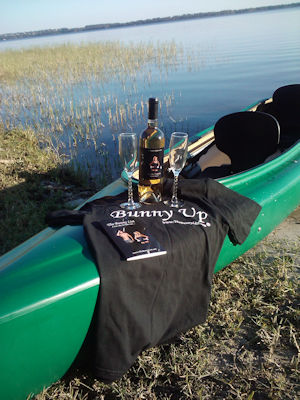 For those of you landlocked and lacking an opportunity to hit the beach, getting your hands on a canoe or kayak can provide you with a wonderful romantic water experience like no other. No sand, no beachgoers, and changing scenery can provide you and your honey with a opportunity to reflect upon your successes, discuss your future and even make out without having family, friends or strangers eavesdropping on your conversation or gawking at your romantic endeavors.
If you don't currently own a canoe or kayak and you don't see yourself purchasing one in the near future, check online and see what rental opportunities are available in your area. Renting one every now and then can be a great financial decision if you don't see yourself using one on a regular basis. If you are determined to incorporate this romantic activity into your schedule on a frequent basis, check craigslist or other classifieds for a slightly used one that meets your needs. Many people tend to buy new canoes or kayaks thinking they will become captains of their own ship on a regular basis, only to find out other issues in thier lives conflict with their desires. Buy purchasing a slightly used one, you can explore your interests, schedules and local opportunities without paying the full price of a new one. If you discover a waterborn picnic and a peaceful trip down a river or stream appeals to you and your honey, then splurg on a yacht of your choice!
For those of you seeking a more landlubberish romantic adventure, we highly recommend exploring your local, state and national parks. Bring a backpack and explore the hiking and nature trails or pack a picnic basket and find a comfy location under a shaded tree. There's nothing like the outdoors for a peaceful and romantic getaway. If you want to kick up the relaxation level a bit, bring a hammock and search for that special location to spend a few hours together.
In addition to having a picnic, napping in a hammock or rowing on a new adventure, there are a number of additional low cost outdoor activities to help you and your honey spend some quality time together. Many people these days are getting involved in a high tech game called Geocaching. You basically search for (and hopefully find) small containers that other people have hidden. The original concept involved signing a log book within the container, taking one small item that you found inside and leaving a new item for others to find. This practive, of course, has since evolved into many various versions of the game and some include finding multiple geocache locations in a series to finish the challenge.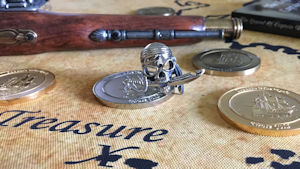 Another more interesting type of treasure hunt is based on a character known as Captain Blue Eye. Captain Ble Eye is a Pirate Captain who has apparently buried his treasure "all across the lands". This Pirate Captain seems to get around quite a bit because he has buried his treasure in state and national parks in every state except Alaska. Apparently he's waiting for warmer weather up there! In addition to burying his treasure in 49 of the 50 states, rumor has it he has buried treasure in many Caribbean Islands including Coco Cay, Bahamas. This island is also known as Little Stirrup Cay and is used by Royal Caribbean Cruises Ltd. as an exclusive destination for it's tourist landlubbers.
Captain Blue Eye has custom gold, silver and bronze coins known as "Pirate Gold". If you find and return one of these coins to The Captain, you will receive a financial reward for your efforts! The Captain sells treasure maps based on each state, but the difficulty level for each treasure hunt varies. Nonetheless, going on a pirate adventure to find buried treasure could prove to be very rewarding and you just might happen to make memmories to last a lifetime as well!
For more information on Captain Blue Eye's Treasure Hunts, Visit This Link: