The Bunny Run!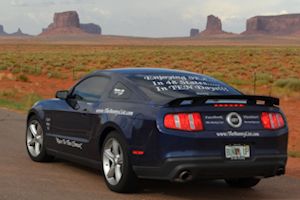 The Bunny Run was a nationwide race held in July, 2012. This race, as you are about to read, was a race like no other race....
Departing an undisclosed location near Orlando, Florida at precisely 12:01am on the morning of July 14, 2012, a unique and adventurous couple raced across the country with the sole purpose of engaging in "Bunny Up Activities" in 48 states.... in TEN Days!
Powered by a new 2012 Mustang Premium GT, The Bunny Up Team raced up through Georgia and the Carolina's to enter Tennessee, Kentucky and The Virginia's. A late night tour through Washington D.C. brought many wonderful memories for our team, which ultimately stopped for some much needed rest just across the border in Maryland.
Day two was spent racing northbound along the eastern seaboard and ended at the town of Kittery, Maine.
As day three began, our team made their way across the New England states and headed westbound toward Chicago.
The late night hours provided a rare opportunity for a race through Chicago, so our team pushed forward, beating
an older model yellow Mustang (vidoe footage available on YouTube) prior to stopping for the night just west
of the windy city.
Day four was spent enjoying the mid-west enroute to Sioux City, Iowa and day five provided the final leg of the westbound journey to
Spokane, Washington. Our teams halfway point in The Bunny Run.
Day six provided the southbound route through Washington, Oregon And Northern California with a stop just
outside Reno, Nevada.
Day seven became an adventure through Las Vegas and The Hoover Dam while day eight brought "Bunny Up
Moments" at The Grand Canyon & Monument Valley.
With the arrival of day nine, our team was behind schedule and raced forward to capture moments along Route 66
enroute to rest near Branson, Missouri.
Day ten, the final leg of their adventure came with a hard run south back to Florida, but clear roads and higher
than average speeds placed The Bunny Run into the history books as a glorifying success!

The Bunny Up Team completed The Bunny Run with five and a half hours to spare and they covered 9246.4 miles in ten days!
Needless to say, our Bunny Up Team abstained from "Bunny Up Moments" for a couple weeks to recover from The Bunny Run! ;)